Gulf oil spill: six lessons
The Gulf oil spill has produced a gusher of lessons about oil production, consumption, and oversight.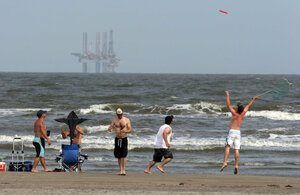 Charlie Varley/Sipa Press/Newscom
The lessons to be learned from the Gulf oil leak are as broad as the spill itself – from the slicks on the surface to the globules on the shore, with others still unknown due to lack of information from the depths.
It's been three weeks since the April 20 explosion sunk the BP-managed oil rig and killed 11 people. The resulting megaspill underscores improvements that must be made in oil production, oversight, and consumption.
This week, for instance, six West Coast senators proposed a permanent ban on drilling in the Pacific. The blowout in the Gulf has pushed to the foreground memories of the 1969 oil rig disaster off the California coast.
A permanent ban may be desirable, but those seeking to protect America's waters must realize that not-near-my-beach bans in the United States put pressure to drill elsewhere in the world (Lesson No. 1). And "elsewhere" can have very low or nonexistent environmental standards, such as in Nigeria.
The US relies on oil imports from that West African coastal nation, but along with oil, Nigeria also produces oil spills – the equivalent of an Exxon Valdez pouring out about every year.
---