Listen to the kids of Brad and Angelina
Cohabiting couples such as Brad Pitt and Angelina Jolie are on the increase, but studies show children of unmarried parents too often suffer – more than kids of divorce. No wonder the children of Brangelina want them to marry.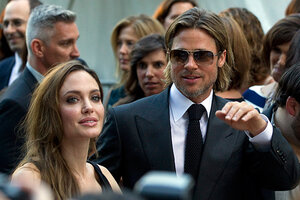 Frank Gunn/The Canadian Press/AP
In a recent interview, Brad Pitt admitted that he and cohabiting partner Angelina Jolie are "getting a lot of heat from the kids" to get married.
"I hope we can hold out," he said.
That pressure on the Brangelina supercouple from their children is a telling comment on the state of marriage in America. According to a report last month, children are now more likely to be exposed to a cohabiting union than a parental divorce.
Only 1 in 4 kids by age 12 will see his or her married parents split up, while more than 4 out of 10 children now live with a cohabiting parent. The reason? Divorce rates have been in decline while the number of cohabiting couples has risen 14-fold in the last four decades.
For children in such homes, life is not only less stable but dangerous, states the report by the National Marriage Project at the University of Virginia in Charlottesville. They are three times more likely to be abused than children living with biological/married parents. And the rate of breakups of cohabiting couples with children is 170 percent higher than that of married couples with children.
---