Euro debt crisis needs spotlight of truth in Greece
Greece ignited the euro debt crisis with a big lie about its deficit, and now the man hired to clean up its statistics faces charges of national betrayal. Keeping euro nations honest is a key to Europe's economic recovery.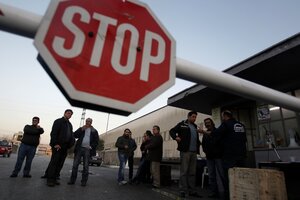 AP/Petros Giannakouris
The ancient Greek philosopher Diogenes used to walk the streets of Athens "looking for an honest man." Today's Greeks are still looking.
It was Greece that sparked Europe's financial crisis back in 2009 after being caught in a huge lie about the size of its official deficit – claiming it was 3.7 percent of gross domestic product when it was really 15.8 percent.
That was a fourfold fib. Now, even though Europe's crisis remains the key risk to the global economy, some Greeks have yet to fully embrace honesty as a virtue necessary for economic stability.
The man hired last year to ensure Greece didn't again cook its books, Andreas Georgiou, is himself under attack.
A few prominent nationalists, disgruntled over the austerity forced on Greeks, have arranged for this respected statistician to face a judge in December for allegedly "betraying the national interest" – simply because he told the truth about the amount of Greece's red ink. If convicted, he could get a life sentence.
Such a dubious move could threaten the next bailout money for Greece. It also has the potential to disrupt Europe's attempt to save the euro and jeopardize the continent's experiment at unity.
This week, France and Germany plan to propose a fix to the 17-nation euro pact with a penalty on any nation that violates the rules on fiscal discipline. The current rule calls for a country's deficit to stay below 3 percent of GDP. But as Greece and a few other of the 17 euro nations have shown, the rule has been easily ignored.
---