Why teens need to know risks of marijuana
Teen use of pot is at its highest in 30 years, with 10th graders more likely to smoke a joint than a cigarette. With the spread of 'medical' marijuana, they perceive less risk – despite the evidence.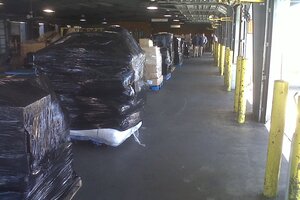 AP/Alabama Alcoholic Beverage Control Board
One measure of the moral mettle of American society is the private lives of teenagers. And we're not talking about a fascination with vampires and werewolves.
On a few key benchmarks – smoking, pregnancy, and alcohol use – today's teens are making smarter choices. Trends show more of them avoiding those particular misadventures of adolescence.
But that's not the case with marijuana.
Pot use is now more common among 10th-graders than cigarette smoking. By their senior year, 1 in 15 teens use marijuana daily. That's up from 1 in 20 just five years ago, according to a new survey done for the National Institute on Drug Abuse.
Abuse of marijuana is at its highest level in 30 years among eighth- to 12th-graders. And it's not just the naturally grown marijuana, which itself comes in a stronger form than the milder type used by some boomer parents during their wild-oats days.
This year's survey decided to ask teens about their use of a synthetic marijuana known as K2, or spice. It was sold widely until last March, when the Drug Enforcement Administration declared a few chemicals in this synthetic pot to be Schedule I drugs. The FDA banned the chemicals for a year, while Congress now weighs a permanent ban.
To the surprise of researchers, nearly 1 in 9 high school seniors said they had used the synthetic pot over the past year. "K2 and spice are dangerous drugs that can cause serious harm," warns Gil Kerlikowske, director of National Drug Control Policy. "We will continue to work with the public health and safety community to respond to this emerging threat, but in the meantime, parents must take action."
---