IMF chief Lagarde: Woman of the year in 2012?
Unable to solve its euro crisis, Europe is turning to the International Monetary fund. Its new leader, Christine Lagarde, brings unusual skills to solve a debt crunch that could stall the world economy.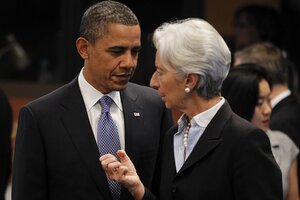 REUTERS/Jason Reed
As a French woman who worked for years in America, Christine Lagarde brings a particular leadership style to solving the world's economic woes. In 2012, her style – which is inclusive, humble, and pragmatic – could be the kind that leads Europe out of its financial crisis.
Ms. Lagarde took over at the 187-nation International Monetary Fund last July and, ever since, Europe's squabbling politicians have looked to her to do what they have so far failed to do for the 17-nation eurozone.
Up to now, she has not been highly visible, even though she's steadily filling a power vacuum for Europe. Lagarde prefers to work in the background, listening to diverse views, probing thorny details, and finding common ground.
Perhaps she learned to shun the spotlight after being on a winning team in synchronized swimming when she was young. Later, as France's finance minister, she designed many of the reforms that shed the country's socialist past, although she didn't take the glory.
Lagarde is the first female to lead the IMF, which serves as the world's lender of last resort for troubled economies. As a long-time lawyer in Chicago, where she worked mainly with men, she honed her skills as a mediator. She creates solutions without trying to take credit for solutions.
With a soft-but-insistent style, she could become the unsung hero of 2012 who prevents Europe's woes from crashing the world economy.
---