Eight reasons to hit 'mute' during TV ads by super PACs
First Iowa, now South Carolina, have seen the first wave of political TV ads from super PACs – mostly negative – that will smother the 2012 elections. Voters have an easy way to avoid such ads.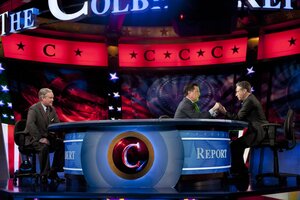 AP Photo/Comedy Central, Kristopher Long
Voters in South Carolina, like those in Iowa and New Hampshire, have been the first to experience a coming deluge of TV advertising nationwide from so-called super PACs in the 2012 election.
On South Carolina TV stations this week before Saturday's primary, as many as 13 political ads are being run during any 30-minute span, with nearly half paid for by such groups.
By November, total spending by the special-interest political-action committees could exceed $1 billion, by some estimates, all with the aim to sway voters for or against candidates – most likely against.
TV viewers do have a choice of whether to listen to them. It's called the mute button. (The function was first designed in 1950 by Zenith when the owner of the TV maker become fed up with commercials.) Here are eight reasons to use it:
1. You are not alone if you dislike super PACs.
Two-thirds of Americans who are aware of the groups' emergence in politics say they will have a negative impact on elections, according to a Pew Research Center poll. Super PACs can spend unlimited amounts on behalf of a candidate.
Almost half of voters, however, have not heard of their existence. Super PACs sprang up after a 2010 Supreme Court ruling (Citizens United v. Federal Election Commission) that said institutions from corporations to unions have similar free-speech rights as people in campaigns – if super PACs are run independently of campaigns (a big if).
---