Russia must rethink what Syria protests mean
Russia under Vladimir Putin sees only a civil war in Syria, justifying its threat to veto any US Security Council action against Assad. But Syria is in a revolution, a shifting of sovereignty.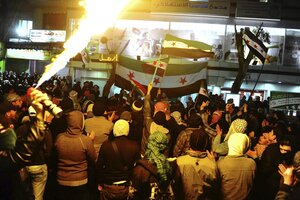 REUTERS/Stringer
Where does sovereignty lie?
Whether they know it or not, diplomats at the UN Security Council who are struggling for a response to the crisis in Syria are really debating that key question.
Over the past 10 months, thousands of pro-democracy protesters in Syria have been killed by the brutal regime of Bashar al-Assad. Each day, more are shot down simply for peacefully demanding a right to choose their leaders. Whatever legitimacy the Assad regime might have had is now gone.
The Arab League, which in the past backed Mr. Assad, asked the Security Council last week to demand he step aside. A pro-democracy opposition group stands ready to serve as a transitional authority to elected government.
What still stands in the way of the United Nations pursuing that path?
Russia and its veto power.
Prime Minister Vladimir Putin sees the violence in Syria strictly as a civil war. Syria's sovereignty is defined solely by the regime that holds power, Russian diplomats contend. The UN cannot violate the sovereignty of even dictatorial countries, they say. The UN itself is built on the sovereignty of each member state.
But this view does not match Syria's reality. The country is really in a revolution to redefine the very nature of Syria's government and sovereignty.
A "civil war" presumes two or more groups fighting simply for power. For the vast majority of Syrians, however, the struggle is not simply against another group – a small, well-armed elite – but it is an assertion of the principle of what constitutes sovereignty.
---