A woman as Mexico's president?
On Sunday, the ruling party nominated Josefina Vazquez Mota to be the first woman candidate for president from a major Mexican party. Would she instill rule of law and sustain the fight against drug cartels?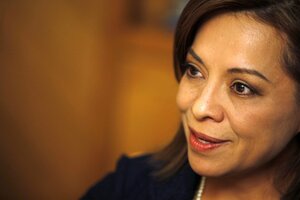 Claudia Daut/Reuters
Both Mexico and the United States hold major elections in 2012, but the big difference between the two contests is that Mexico has a woman running for president – the first ever from a major party.
On Sunday, former education minister Josefina Vázquez Mota easily won the nomination of the ruling party, the National Action Party, or PAN, defying its establishment. If she goes on to win the July 1 election, Mexico will join a few other Latin American countries that have elected women as presidents, such as Brazil, Chile, Costa Rica, and Argentina.
As Ms. Vázquez points out, Mexico may finally be ready for a woman leader. The country needs a strong fighter against corruption. Most of all it must embrace the rule of law. About half of Mexicans say their fellow citizens rarely or never respect the law. Without such progress, curbing the drug cartels or preventing illegal immigration will remain difficult.
One of Vázquez's promises is to seek life sentences for politicians who collaborate with organized crime. She also warns of a return to Mexico's antidemocratic and highly corrupt past if her main rival, Enrique Peña Nieto, is elected. He is the nominee of the Institutional Revolutionary Party, or PRI, which ruled Mexico for seven decades until it lost to PAN in 2000.
---