Obama's needed rapport with China's Xi
Xin Jinping will be in power for a decade, so his visit to the US must establish a trust that can help smooth growing differences and prevent confrontations.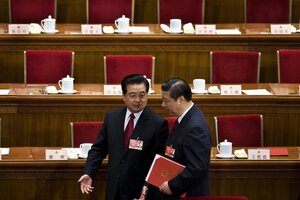 Andy Wong/AP Photo/file
If first impressions count, this is a big one.
Xi Jinping, the man who will run China over the next decade as the incoming Communist Party chief, meets with President Obama for the first time this week. How well the two leaders get along may determine whether the world's two most powerful countries can work out their growing differences.
A sharp warning preceded Mr. Xi's week-long visit to the United States. The two nations have a "trust deficit," said one Chinese official. Indeed, their militaries barely talk to each other, and yet they are each muscling up their forces in Asia in a contest of influence over the world's most dynamic region.
The two men need to show they can develop the kind of close rapport that will prevent confrontation. Mr. Obama met 10 times with Xi's predecessor, Hu Jintao, and still the bilateral ties have only worsened. China now simply ignores the human rights complaints of Washington while the US laments China's lack of support on Syria, Iran, and other issues.
Xi may be better prepared to improve communications than was the cool and stiff Mr. Hu. He has a daughter at Harvard and once briefly stayed with a family in Iowa. His father was a leading political reformer, and his wife is a famous folk singer. Xi's affable, outgoing demeanor will go far to put a warm face on China's actions.
---