Montana's challenge to 'super PACs'
Montana's high court challenges the moral basis for the US Supreme Court's Citizens United ruling that spawned super PACs. The high court needs to rebalance free speech vs. democracy.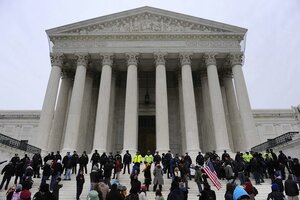 Jonathan Ernst/REUTERS
More than a century ago, a Montana industrialist named W.A. Clark used his wealth to buy a seat in the US Senate. Mark Twain wrote that Clark's well-monied politicking had so sweetened corruption in Montana that "it no longer has an offensive smell."
The state's voters did rise up, however, at the power of money. They passed the 1912 Corrupt Practices Act. Ever since, the law has prohibited corporate spending on state political campaigns.
Now the law is under challenge in the US Supreme Court – the same court that decided in its 2010 Citizens United ruling that corporations have free-speech rights in unlimited spending on campaigns because there is no compelling case that they will demand something in return from politicians. The ruling has spawned a new kind of political-action committee, the "super PACs" now dominating the 2012 election campaigns.
The high court is reviewing a decision in December by the Montana Supreme Court that found the state still has a continuing and compelling interest to justify speech restrictions on corporations under the 1912 law.
Montana, being a state with a sparse population that is highly dependent on big farms and expensive mining, is "especially vulnerable to continued efforts of corporate control to the detriment of democracy and the republican form of government," the state court wrote.
---