Privacy for children who use mobile apps
App stores and developers are lapse in helping parents protect the privacy of a child using smart phones and tablets. From Google to Apple, finds an FTC report, clear information is needed.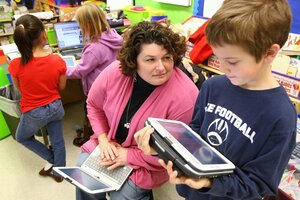 Kyle Bursaw/Daily Chronicle/AP Photo
Parents need all the help they can get to protect a child's privacy, especially in mobile cyberspace. Kids as young as 3 now use the latest app or other software on tablets or smart phones – the new baby sitters for busy parents. And given recent lapses in privacy protection by Facebook, Twitter, Google, Apple, and other tech giants, the government has to step in.
A 1998 law, the Children's Online Privacy Protection Act, which requires an Internet site to obtain parental consent before collecting information about a child under 13, is in serious need of an update. To make up for its shortcomings, the Federal Trade Commission has tried to ride herd on the latest from the digital industry, especially in tracking of information – such as a child's whereabouts.
With a majority of apps aimed at children, the FTC decided it needed to find out if parents are being given enough information by app stores and developers to navigate their children's choices.
They aren't, the FTC said in a report released Thursday. The federal agency looked at about 1,000 apps designed for children on Apple's iTunes and Google's Android Marketplace and found "it is almost impossible to figure out which apps collect data and what they do with it."
Its finding is similar to what the FBI has discovered in its efforts to protect children from online sexual predators – a threat that the agency says is growing. "Many people are baffled by the privacy protocols and uncertain as to how to utilize them," FBI Director Robert Mueller told the Senate in December.
---