How to ignore thin fashion models
A study in Europe links the fashion industry's use of super-thin models to the self-identity problems of many young women. The industry can do more to help girls find their true self-worth.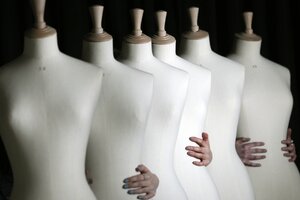 David Moir/REUTERS
Much of public life these days is designed to remind individuals they can choose what to allow into their thinking. Movies, for example, come with ratings so people can decide not to watch violence or sex. Fewer schoolteachers give lectures and instead encourage pupils to sift through facts and competing ideas for themselves.
One of the most difficult challenges in helping people with such choices is the use of super-skinny models in fashion magazines and on the catwalk.
The destructive images of waifish women are closely followed by many young women who simply let others define a self-identity based on body shape – and in dress sizes 0 to 6. Even among 12-year-old girls who are underweight, two-thirds of them believe they are fat.
Now, a new study of nearly 3,000 young women in Europe finds that the fashion industry is a significant influence on a woman's identity. The study found that countries with the highest rates of eating disorders such as anorexia are also places where young women generally worry the most about what they eat and have the highest circulation of fashion magazines.
"Self-image is correlated with body weight," state economists Joan Costa-Font and Mireia Jofre-Bonet of the London School of Economics in their study, "Anorexia, Body Image and Peer Effects: Evidence from a Sample of European Women."
The researchers call for urgent action to influence the fashion industry's hold on young women. "Government intervention to adjust individual biases in self-image would be justified to curb the spread of a potential epidemic of food disorders," they write.
---