Helping hackers don white hats
The FBI warns that cyberspace hacking may soon surpass terrorism as a threat. But many hackers easily give up and become useful 'white hat' security experts. Are there better ways to win over more of them?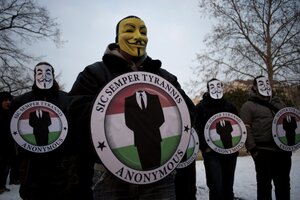 Janos Marjai/MTI/AP Photo
In the near future, warned FBI Director Robert Mueller last week, threats against computer networks and other parts of cyberspace will be the No. 1 security danger in the United States – surpassing terrorism.
His words echo those of Leon Panetta, the Defense secretary, who last year said "the next Pearl Harbor" could be a cyberattack on government security systems or the nation's electricity grid.
Such alerts to the growing problem of criminal or state-sponsored hacking have pushed both private firms and the government to spend billions on computer defenses like Internet firewalls.
RELATED: A cascade of Internet events
But they've also led to a hiring of hackers who have been caught or repented. The idea is as simple as "it takes a thief to catch a thief," but it is especially true in the complex world of botnets and other dark arts of digital crime.
Many companies and even the military say they need the best software workers to defend their systems, and often the solution is to employ a former "black hat" hacker who has decided to be a "white hat" (or ethical) hacker.
"If they [hackers] have been slightly naughty boys, very often they enjoy stopping other naughty boys," said Lord West, Britain's first cybersecurity minister, a few years ago when he began to recruit former hackers to defend national electronic security.
---