After Saints football scandal, NFL must end 'Hunger Games' culture
The NFL penalties against the New Orleans Saints football team for purposely injuring other players may not be enough to curb the game's excessive violence – or those fans who enjoy it.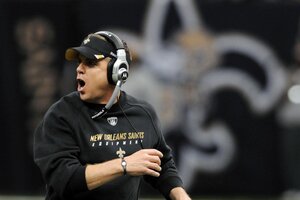 Jim Hudelson/The Shreveport Times/AP Photo
Fans of contact sports such as professional football sometimes admire players who hit an opponent hard. Just listen to the cheers when a defensive lineman sacks a quarterback like a fly swatter.
This popular fascination with sanctioned violence in sports is similar to the voyeurism in "The Hunger Games." The new film depicts spectators enjoying a kill-or-be-killed contest among young people. It was inspired by TV reality shows like "Survivor" that also exploit this perverse passion to watch mutual destruction.
But pro sports are real, and it may be time to ask if fan admiration of the violence tolerated by the National Football League helped contribute to the atrocious scandal of the New Orleans Saints.
Between 2009 and 2011, the team ran a secret "bounty hunting" program, giving cash rewards to its players for intentionally inflicting a physical injury on an opposing player – especially a quarterback – to the point that he couldn't play.
The NFL penalized the Saints with tough suspensions, a $500,000 fine, and the loss of draft picks. Coach Sean Payton was suspended without pay for the entire 2012 season.
The league's severe penalties were meant to send a message to all players and coaches. They must avoid a "deliberate lack of concern for the well-being" of fellow players.
But that's a difficult standard to measure when physical intimidation is "part of the game," and it is easy to block the view of a referee in a violent tackle. The NFL admits it has work to do. "We have made significant progress in changing the culture with respect to player safety, and we are not going to relent," said NFL commissioner Roger Goodell.
---