Supreme Court wrestles with a more dependent world
The high court hears a complaint from states about the health-care law's 'coercion' to accept an expensive expansion of Medicaid. The issue reflects a more dependent world in government, trade, and high-tech.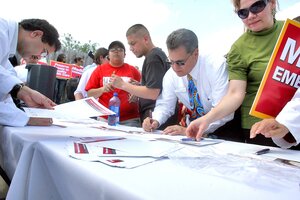 Joel Martinez/AP PHOTO
In the last day of its debate over the health-care law, the US Supreme Court wrestled with a big issue in this interconnected age: When does voluntary dependency slip into coercion and perhaps even blackmail?
The justices heard a complaint by 26 states about the law's expansion of Medicaid to all adults with incomes up to 133 percent of the poverty line. The added cost of this state-administered program could hit local taxpayers, the states argued.
Yet, while states can legally opt out of Medicaid, they are also threatened with the loss of all federal spending if they don't comply.
Like a debtor in too deep, states will likely be stuck with paying for much of Medicaid's expansion in the coming decades. It's a type of unforeseen overdependency – in which largess can turn to duress – and which can become more common with the growth of federal spending, global trade, and personal technology.
Washington, for example, remains hooked on China's willingness as the world's largest banker to continue buying US debt in order to keep the American economy going. The world's high-tech industries are also dangerously reliant on China's almost-exclusive supply of rare earth minerals used in manufacturing many digital goods. Beijing has threatened to withhold exports of such minerals unless high-tech companies open plants in China.
---