North Korea rocket launch: fireworks of fear
North Korea plans to launch a missile by April 16 in violation of UN sanctions. It will be yet another provocative act by a regime that has long used blackmail and crisis to simply survive and to win concessions.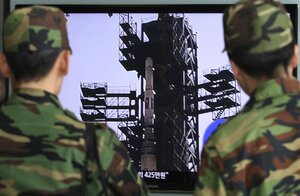 Ahn Young-joon/AP Photo
North Korea plans to launch its latest rocket across the waters of the Far East, perhaps by April 16. The plan has already drawn the desired response in the region: Fear and, most of all, more attention on North Korea.
Nations are lining up to condemn the provocative act, which violates a United Nations resolution. Washington is divided over how to respond. Journalists are playing up the implied threat. Japan may even shoot down the three-stage Unha-3 rocket if it strays close to its shores.
And just to make sure it is being feared and not ignored, North Korea may also soon conduct a third nuclear test, according to reports. The first two tests, in 2006 and 2009, weren't a technical success. And North Korea's previous rocket launches, in 1998 and 2009, weren't great hits either.
Such actions fit a long pattern of brinkmanship, bellicosity, and blackmail by the Pyongyang regime. Fortunately, the Kim family dynasty has been relying on waves of provocative acts long enough that the rest of the world has caught on. Even its only ally, China, now sees through the obvious childish behavior.
---