Lift Latin America's 'drug curse'
At the Summit of the Americas, Obama will likely be asked to discuss alternatives to the get-tough tactics on the drug trade – even to endorse legalization. He should point to Latin America's successes in giving economic alternatives to drug trafficking.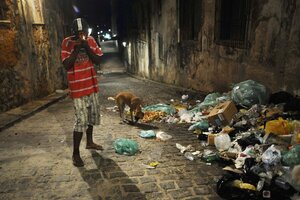 Lunae Parracho/Reuters
At a summit this weekend with Latin American leaders, President Obama is expected to get an earful about the region's "drug curse." Many in the region seek alternatives to the decades-long, US-backed crackdown on drug growers and traffickers.
At least one attendee at the Summit of the Americas, Guatemalan President Otto Pérez Molina, even wants to discuss legalization of drug use.
These leaders are tired of the drug-related violence and corruption that corrodes their democracies, especially in Mexico and much of Central America. About 15 percent of Latin America's economy is lost to violence generated by organized crime, according to the Inter-American Development Bank. In Mexico, drug-related killings have reached 50,000 since 2006.
Fighting the flow of drugs – mainly to users in the United States – has had only one relative success. Colombia was able to beat back its powerful drug cartels.
But that effort took a decade and more than $6 billion from the US. And Colombia now realizes that lifting the drug curse has not eliminated a basic motivation for people to enter the drug trade: a lack of economic opportunities among its poor.
---