CitiGroup shareholder revolt: golden-rule capitalism
A shareholder revolt at banking giant CitiGroup that rejected a pay package for top executives marks a chance for a healthier relationship between investors and managers. It might also reduce the nation's income inequality.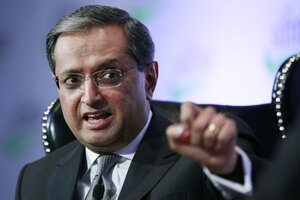 Mark Lennihan/AP Photo
The American election campaign isn't the only arena now trying to define what is "fair" on the issue of income inequality.
On Tuesday, shareholders of the giant banking firm CitiGroup shocked management with a vote that disapproved of a proposed pay package for top executives.
The vote's real message?
Pay must be tied to a manager's performance, especially in ensuring a company's long-term health.
The shareholder revolt is a welcome measure of corporate democracy aimed at reining in Wall Street's myopic drive for short-term earnings and for executive bonuses unhinged from individual merit.
For too long, Washington has assisted such practices with tax rules and other policies that favor management over shareholders and that encourage executives to be paid for a focus on quarterly financial results at the expense of a corporation's well-being over time.
Those policies changed in a small way with a provision in the 2010 Dodd-Frank law that requires companies to put their pay practices to a shareholder vote at least every three years. This "say on pay" rule allows only an advisory vote by shareholders. But at least it may lessen the asymmetry between managers and shareholders.
---