Containing Syria's chemical weapons
Little-noticed amid the fighting and attempted cease-fire in Syria are the stockpiles of chemical weapons. The US and others are trying to check their use or theft. Russia also needs to pressure Assad into ensuring they are safely stored.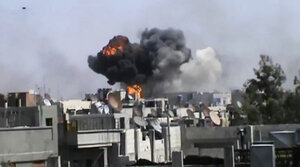 Shaam News Network/AP Photo
Of all the tensions over the fighting in Syria, none is as worrisome as the future of the chemical weapons stockpiled in sites around the country.
Will they be stolen, moved, or even used if the Assad regime starts to collapse?
No one really knows.
Unlike Iran's mere potential to build a nuclear weapon or North Korea's underground testing of nuclear devices, Syria's chemical weapons are ready for action – and right in the middle of a uncertain civil war.
"The country is a chemical powder keg ready to explode," states a March report by the James Martin Center for Nonproliferation Studies at the Monterey Institute of International Studies.
Frightening as that may be, the United States, Israel, Jordan, Turkey, and other states have come up with contingency plans to prevent the weapons from being used (by quietly warning Bashar al-Assad) or to keep them from falling in the hands of terrorists (by monitoring the sites remotely and guarding Syria's borders carefully).
---