Syria? Iran? Kony? Let's face down atrocities before they occur.
Obama sets a model for the world with an alert system to prevent potential mass atrocities. But will it also prevent foreign military intervention in trouble spots?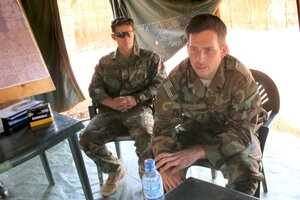 Rodney Muhumuza/AP Photo
Twice since taking office, President Obama has sent troops overseas to prevent mass atrocities. In Libya, it worked. In central Africa, catching warlord Joseph Kony and his Lord's Resistance Army is still a work in progress.
Now Mr. Obama has decided the United States needs a better way to be alert to potential atrocities – in hopes of preventing them and, most of all, to avoid those types of forceful humanitarian interventions.
On Monday, the White House convened the first meeting of a new Atrocities Prevention Board. The purpose of this interagency body is to make the US more nimble in foreseeing events that might lead to genocide, war crimes, and other such atrocities.
It has a mighty task, one that must battle against the lassitude of Americans toward foreign intervention as well as the world's sorry record over the past century in not preventing the killing of innocents on a massive scale.
"It can be tempting," Obama said in a speech at the US Holocaust Memorial Museum on Monday, "to throw up our hands and resign ourselves to man's endless capacity for cruelty." But he added, we must "insist there is a future ... to say yes to life, to believe in the possibility of justice."
Setting up an alert system for mass atrocities has been a long time coming. In 2005, the United Nations first endorsed the concept that nations have a "responsibility to protect" their own people or else their sovereignty can be violated by a foreign force. This doctrine, however, is meant to be preventive. It came out of the UN's collective guilt over the failure to prevent the 1994 Rwandan genocide and the 1995 massacre in the Bosnian town of Srebrenica.
---