A matter of discretion in immigration reform and Arizona law
Arguments made in Wednesday's Supreme Court hearing on the Arizona immigration law get to the heart of the national debate: How much discretion to give to police and prosecutors?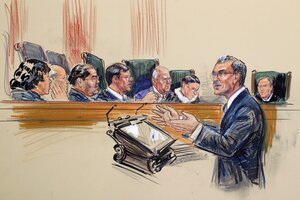 Dana Verkouteren/AP Photo
Every day in America, hundreds of law enforcement officials make a tough call on whether to:
1. detain people on suspicion they are illegally in the United States, or
2. not prosecute them for that crime because it is considered a low priority.
The first choice, made by police, can often be seen as racial profiling, especially of Hispanics, despite safeguards against such a practice.
The second choice, made by prosecutors for whatever reason, also has troubling aspects. It can encourage both massive disregard of the rule of law and perhaps more illegal immigration.
The two choices represent opposite sides of an issue now playing out in the presidential contest as well as in the Supreme Court. And yet they are similar. They are both exercises of discretion by law enforcement.
The right question then in this political and legal debate should be this: When does either type of law enforcement discretion go too far?
Will race be a factor in too many detentions of illegal aliens? Will a low rate of prosecution encourage lawlessness in general and also more border crossings – as well as greater hiring of such workers by employers?
Fortunately, finding a balance to this question of discretion was at the heart of Wednesday's hearing before the Supreme Court on whether Arizona's 2010 law on illegal immigration is constitutional. (Alabama, Georgia, Louisiana, and Utah have passed similar laws.)
---