Europe looks for The Avengers
The results of the French and Greek elections signal a popular mood that alien forces – markets, immigrants, trade – need to be defeated. But the reality isn't like The Avengers film.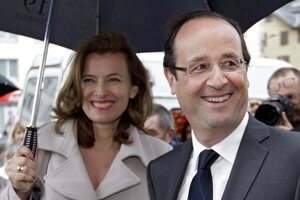 Lionel Cironneau/AP Photo/file
He hardly resembles one of the heroes in "The Avengers." Yet the president-elect of France, François Hollande, is like many leaders today. He's been called upon to defeat alien forces.
In the eyes of French voters on Sunday, those foreign forces are the demanding financial markets and Germany's dictate for austerity to solve Europe's debt crisis.
In Greece, too, after its own upset election Sunday, new leaders are expected to protect the Greeks from an invasion of foreign demands for radical reform of their economy.
Outside forces are indeed pushing politicians these days to spend more time dealing with external issues. And they are adding up: climate change, trade competition, illegal immigration, terrorism, the Internet's impact, energy supply woes, and so on.
With so many adverse trends, each country is prone to see the rise of groups trying to fend them off. In the first round of the French presidential election, for example, about 1 in 3 voters cast ballots for candidates who are anti-euro and antiglobalization – from the left and right.
But as Britain's Europe minister, David Liddington, says, "You can't be 'little Europe' and expect to somehow be immune from global trends."
---