Facebook IPO as a measure of social trust
Facebook's 900 million users are a trusting lot, in each other and Mark Zuckerberg. The Facebook IPO on May 18 will be a rare measure of trust in this one-seventh of humanity.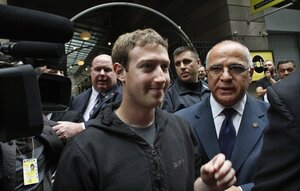 Eduardo Munoz/Reuters
Starting May 18, anyone will be able to buy shares in Facebook. It may be the largest initial public offering (IPO) in history.
The social network giant predicts its value will be about $100 billion. By comparison, Google's stock debut came in at $1.66 billion.
Not bad for a company started only eight years ago by a young Harvard student, Mark Zuckerberg.
But the stock sale will be more than a measure of Facebook's worth. It will also be a rare measure of how much trust exists among a seventh of humanity.
More than half of all Internet users are on Facebook. That's more than 900 million members. They all trust their "friends" – about 139 on average – with personal information, such as dating habits, health conditions, or intimate photos. Many open their page to anyone.
And they all trust Facebook Inc. with that information.
The company's promise to potential shareholders is that it will make lots of money by targeting ads to users based on their personal data, even each user's whereabouts or recently visited websites.
With this stock sale, many investors are asking a tough question: Will all that trust evaporate someday, especially among users who are "creeped out" by ads that seem to know them so well or that suddenly join a Facebook conversation? If so, Facebook's advertising earnings would evaporate, too.
---