At G8 summit, US taps into Africa's 'cheetah generation'
For the G8 summit, Obama unveils a promise by private firms to invest $3 billion in raising Africa's farm productivity. Many young Africans, dubbed 'cheetahs,' are posed for effective private investment.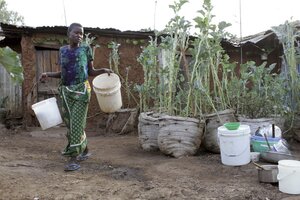 Noor Khamis/Reuters
Africans have long accepted the world's view of Africa – a place with too many problems to expect much and constantly in need of charity. But in the past decade, many Africans have rejected this tyranny of low expectations.
Dubbed "the cheetah generation," they are the millions of young and educated entrepreneurs who are ready to pounce on opportunities for growth – much like Asians who created that region's "tiger economies" in the 1960s.
These cheetahs will be one of the main topics at this weekend's Group of Eight summit in what has become a yearly discussion about what wealthy countries can do for the world's poorest continent. On the table this year is an initiative from the United States that brings together 45 companies that have promised to invest $3 billion on agricultural projects in six African countries.
Is Africa now ripe for economic takeoff? That can be hard to see when more than half of the people in sub-Saharan Africa still live on less than $1.25 a day.
Yet the continent is now the world's eighth-largest economy and also has the youngest in population. Since the 1990s, Africans have seen positive trends in democracy, debt reduction, and the use of "leapfrog" technologies like cellphones and renewable energy.
Africa also has most of the world's arable land. The US initiative is aimed at reaching those cheetahs who will raise farm productivity and turn subsistence farmers into commercial ones.
---