Hope, resiliency, and unity mark the Joplin tornado anniversary
One the worst tornadoes in US history hit Joplin a year ago. The Missouri city has good reason to now celebrate its path to recovery.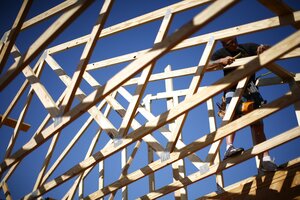 Eric Thayer/Reuters
Anniversaries of major disasters are often marked by sad remembrance of a great loss. Not so in Joplin, Mo., a town struck a year ago Tuesday by the deadliest tornado in the United States in more than a half century.
For the first anniversary, Joplin folks want to be remembered for how they responded to the giant twister, not what happened to them.
Certainly after the tornado hit last May 22, Joplin had plenty to respond to.
Swirling winds as high as 200 miles per hour cut a 13-mile path through the heart of the city, destroying 7,500 buildings, including the high school, and killing 161. Nearly a third of the city was gone.
For the anniversary events, the city wants to celebrate the unusual unity that people found in common tragedy. Like other places hit by natural disaster, Joplin discovered that its most valuable resource for rebuilding is its people working together and their spiritual bonds.
The city plans a "walk of unity" Tuesday along the path of the tornado. It also invited back the thousands of volunteers who descended on Joplin to help. President Obama will give the high school commencement speech. They will hold groundbreaking ceremonies for the building of four new schools.
This past Sunday, the city's religious communities – Christian, Jewish, and Muslim – gathered in a ceremony to continue the strong feeling of responsibility for one another. Also, a few well-known actors, including Paul Giamatti, gave a reading of the book of Job.
This community spirit has supported the city's rebuilding. Most of the 530 businesses hurt by the tornado have reopened. Permits have been issued for the rebuilding of two-thirds of the damaged or destroyed homes.
Joplin has replaced 20,000 felled trees, distributed free weather radios in case of another tornado, and is encouraging the construction of storm shelters. A local mental-health center provides help free of charge for those still coping with the aftermath.
---