Message from Google chief: Have a heart – turn off this screen
Google chief Eric Schmidt suggests young people drop their screen time for some real conversation, heart to heart. Being better connected digitally isn't the best way to develop social skills.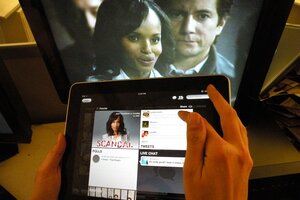 Frazier Moore/AP Photo
How apt for the next app. Google's executive chairman Eric Schmidt recommended last week that we all unplug a bit from the digital screens that dominate our hyperconnected and virtual daily life.
"Take one hour a day and turn that thing off," he advised the 2012 graduates of Boston University in a commencement address, even as he suggested many in the audience were texting or tweeting as he spoke.
"Take your eyes off that screen and look into the eyes of the person you love," said the man who helped turn the Internet into a must-search obsession. "Have a conversation, a real conversation."
Becoming unglued to "the screen" will take plenty of pulling, especially for what the Google chief calls "the first fully connected generation the world has ever known."
Why? The average American now spends more than eight hours a day in front of a screen – and that doesn't include public ones, like smart boards in classrooms or gas-station advertising screens. For the screen-saturated Millennials, the time spent gazing is even higher.
Sure, many people may think they need that smart phone, laptop, tablet, desktop computer, game console, TV, e-book, or the Next Best Gadget. But guess what? More than 8 of 10 Internet users admit they often go online for no particular objective in mind, according to a 2010 study by the Annenberg Center for the Digital Future.
It's sort of like opening the refrigerator when you're not even hungry.
What's the biggest pitfall in so much screen time? As Mr. Schmidt hints, people raised on multiscreening may not learn enough social skills to function in the nonvirtual world. They might think they really should speak in 140 characters. They begin to "like" someone without really knowing how to like them in person.
---