Syria massacre: a moment of truth to end the lies
The massacre of women and children in Houla, Syria, finally forces Russia to stop defending the denials of Bashar al-Assad in the killing of innocent civilians by Syrian forces.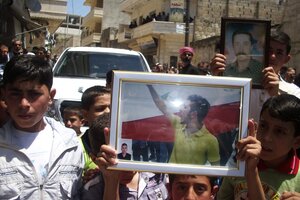 Reuters
A critical step in bringing peace to Syria is to end the lies that mask the atrocities taking place there.
On Sunday, the world took such a step when Russia supported a UN Security Council resolution condemning the Syrian government's responsibility in the killing of 49 children and 34 women in the village of Houla.
The heinous massacre on Friday could not be easily ignored by Russia, which remains the main supporter of the Syrian regime. Moscow's uncomfortable alliance with Syria has pushed it into vetoing previous United Nations resolutions aimed at isolating Syrian President Bashar al-Assad and forced it to support his lies about the killings, such as the false claims about the role of outside groups or that sectarian interests are behind the pro-democracy protests.
President Vladimir Putin even contends that the West has fueled the violence in Syria. But now this latest revelation of mass slaughter is inescapable – and also potent in ending the lies.
As many as 10,000 Syrians have been killed during the 15-month uprising in Syria, creating a humanitarian crisis nearly as severe as past ones in Rwanda, Bosnia, Kosovo, and Libya. In each of those cases, a solution depended on whether the international community remained in denial about facts on the ground.
---