World eco-summit in Rio must come down to earth
The June 20-22 UN sustainable development conference in Rio, 20 years after the first Earth Summit, comes with the latest grave warnings for the planet. Does alarmist rhetoric still work to alter consumer behavior toward the environment?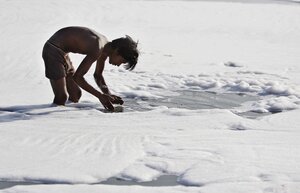 Tsering Topgyal/AP Photo
Global leaders will gather in Rio de Janeiro June 20-22 to take stock of the progress made since the first world conference on the environment in 1992. They may not be a happy lot.
Like that earlier Earth Summit in Rio, this one has been preceded by alarming reports of the dangers to the planet from human activities, such as overfishing and fossil-fuel burning.
The official summit report, a 525-page document issued Wednesday by the United Nations Environment Program, cites "significant progress" in only 4 of 90 crucial environmental goals over the past five years.
"This is an indictment," said Achim Steiner, head of the United Nations agency. "We live in an age of irresponsibility."
Another report by a team of scholars, published in the journal Nature and timed for the Rio meeting, warns of a possible ecological tipping point. Human use of Earth's land surface could reach 50 percent by 2025, it states, causing biological changes that could easily be irreversible.
Such reports hark back to a famous 1972 report, Limits to Growth, by the Club of Rome. That report's predictions of impending gloom failed to pan out. But more than that, a string of such reports since then has raised the question of whether alarmist rhetoric about the environment can really change people's habits in their use of natural resources.
Certainly, government regulation and taxes have altered consumer behavior to some degree. People litter less, recycle more, and conserve fuel more wisely. But so much of what is needed now for sustainable development requires that consumers act in voluntary and ethical ways toward the exploitation of nature – and toward future generations.
---