A big step toward 'designer babies' – and big questions
Researchers have achieved the first mapping of a fetus's DNA. The breakthrough opens the potential to choose a child's characteristics. Such power, however, should also force questions about 'playing God.'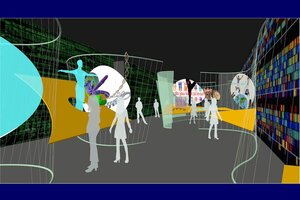 Smithsonian/AP Photo
A stunning breakthrough in biotechnology was announced this week that brings humanity closer to an Orwellian prospect: parents being able to choose the characteristics of an unborn child.
For the first time, scientists have mapped the DNA of a fetus. They did so by using specimens from a pregnant woman and the father. The procedure may make it easier someday to prenatally change genes seen as causing diseases or, more startling, pick a child's attributes such as eye color or even intelligence.
This achievement by researchers at the University of Washington raises anew many legal, ethical, and moral concerns about the potential for "designer babies." Yet at a deeper level, such advances in the human mastery of the reproductive process also stir up questions about what is "natural" – or rather, whether "natural selection" will, or should, become "deliberate selection."
The power to alter a child's genetic makeup should not be regarded as simply an exercise in manipulating matter for a determined end. Rather it must also force fresh thinking about the principles that drive human behavior, such as the love that motivates a parent to be a parent or the truth about life's eternal nature that demands more than a desire for physical perfection in a child.
The technique of altering a fetus's DNA could simply push parents to treat children as a commodity, like a perfect Build-A-Bear, rather than treat them as a gift – one that commands unceasing love regardless of how a child turns out. But faced with the prospect of wielding immense control over a child's future, parents could also be humbled at the responsibility, even frightened at having to make so many choices that are now beyond the power of humans.
---