Just kidding
Today's American politics needs the mix of humor and civility heard on NPR's soon-to-end "Car Talk." Mass culture that includes self-deprecatory jokes and a friendly tone can influence the nation's political discourse.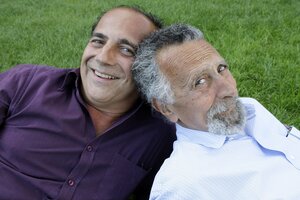 Charles Krupa/AP Photo/ file
The comedian mechanics who host NPR's "Car Talk" are calling it quits after 25 years on the radio. Tom and Ray Magliozzi – aka Click and Clack the Tappet Brothers – have been a rare example of the kind of self-deprecating humor and on-air civility that can uplift public discourse in America.
Their success in mixing laughter and respect found a match in the friendly and witty sparring each week between David Brooks and Mark Shields on the PBS "NewsHour" show. In February, the two columnists were given the Prize for Civility in Public Life by Allegheny College. When the award was announced, Mr. Brooks quipped: "I want to apologize for punching Mark."
American media culture could use a few more models of humor and civility at a time when its politics is all sharp tongues and elbows. Self-deprecating jokes – not the cynical, flamethrower type seen on Comedy Central – can serve as a universal solvent to the harshness of Washington's acute polarization.
Making jokes about one's self can open doors, says Alan Simpson, a former Republican senator from Wyoming. It reflects a self-confidence and allows for forgiveness.
---