Arab Spring's second revolution
Tunisia, home to the Arab world's first successful uprising against a dictator, erupted this week with a battle between radical Islamists and the moderate Islamic party that dominates government. A second revolution, one within Islam that can reconcile it with democracy, will again help the Middle East.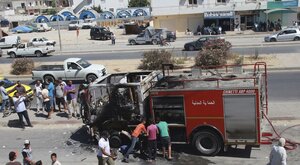 REUTERS
The Arab revolution for democracy that began last year in Tunisia has now spawned a second revolution. And once again Tunisia is at the epicenter, with recent protests marking its emergence.
The initial Arab struggle remains one of democracy against secular dictators like Bashar al-Assad in Syria. But in Tunisia, which now has a democracy, a new battle has opened up. It pits the Islamic party Al Nahda that dominates a secular government against ultraconservative Islamist groups – Salafists.
Many Salafists regard ideas like individual rights and religious pluralism as Western imports. They also want liberties according to their interpretation of Islam.
This theological clash between moderate and radical versions of Islam erupted June 10 when Salafists attacked an art exhibition in a suburb of Tunis. The exhibit included a painting with the word "Allah" spelled with insects. Street riots led to an attack on a courthouse, forcing a police crackdown and leaving one person dead, more than 700 injured, and some 160 arrested.
It was the worst unrest since the January 2011 ouster of strongman Zine el-Abidine Ben Ali. The government imposed a night curfew this week in many parts of the country.
For Al Nahda (The Awakening), which rules in a coalition with minority secular parties, this challenge by hard-line Muslims was also a challenge to its commitment to democratic ideals – especially its hope that Islam and democracy can be compatible.
---