Obama and Romney must link economy, immigration
Last week, Obama and Romney gave dueling speeches on the economy. This week, it was immigration. The two topics are very much related. The candidates should focus on that.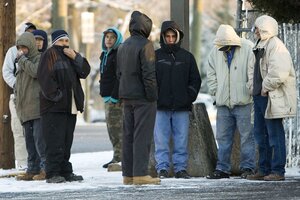 Larry Downing/REUTERS
In recent days, both Mitt Romney and Barack Obama have played to "the Hispanic vote," each offering plans on how to deal with illegal immigration. Largely unsaid is how their ideas would affect jobs and create economic growth.
Immigration is closely linked to the economy, especially when the jobless rate is 8.2 percent. Many employers, for example, cut costs by hiring illegal migrants at below minimum wage. Some high-tech industries are short of skilled workers that they could find overseas.
And President Obama's move to grant work permits to many young illegal migrants will provide more competition for scarce jobs sought by less-educated Americans.
Yet with the retirement of baby boomers in coming years, there will be a huge demographic gap in the labor force. That will require more immigrants, not fewer.
Then there are the intangibles, such as how migrants create jobs by being entrepreneurial or how they bring ideas to science and technology or to fashion and food, creating investment. Between 1995 and 2005, immigrants were key founders in more than a quarter of all new engineering and technology firms in the US.
Up to now, the campaign debate has largely kept immigration and the economy as separate issues. And the political clash over immigration focuses too narrowly on border security and possible leniency for the 11 million illegal immigrants in the United States. In speeches this week to the National Association of Latino Elected and Appointed Officials, the two candidates made competing promises on how to solve the difficult immigration issues.
---