As bank scandals add up, a need for a culture of integrity in banks
The HSBC scandal comes soon after reckless or deceitful behavior at Barclays and JPMorgan. The pattern lies in a bank culture that doesn't emphasize character enough. A survey of the industry shows why.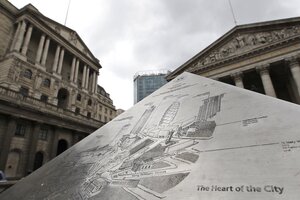 Lefteris Pitarakis/AP Photo
Institutions and industries from Congress to the news media have fallen sharply in public favor. Some are reforming fast. Others remain stuck in old habits.
One industry, banking, has seen scandal after scandal exposed in the postrecession era – HSBC, Barclays, JPMorgan, to name only the most recent ones.
Since 2008, confidence in banks has dropped by half. Only a fifth of Americans now trust them. And that's two years after Washington passed the toughest regulations on the financial industry since the Depression.
More regulations can do only so much for reform, as can the public shaming of bank executives in hearings on Capitol Hill. The most lasting reform lies in the financial industry itself making sure that it operates with a culture of integrity.
That's not easy unless top executives know how much their workers actually put such qualities as honesty and service to clients above personal gain. Hiring practices often look first for performance, knowledge, and loyalty. Well-written codes of ethical conduct are often ignored, as is reckless risk-taking.
Surprisingly, 94 percent of American and British senior executives in the industry say they are willing to report wrongdoing at work, according to a survey released last week by the whistle-blower law firm Labaton Sucharow. And 86 percent say they put their clients first.
---