When half of India loses electricity, time for lessons on going local
India's electricity grid went out for 600 million people Tuesday. The historic blackout shows how nations must reconsider big, complex infrastructure like centralized electric utilities.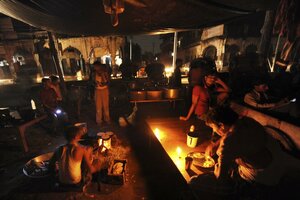 S.K.Yadav/AP Photo
Countries that rely on a national infrastructure for basic needs – from electricity to roads to food – can take a lesson from India's massive power outages. A big, complex system must have resiliency built into it from scratch – all the better to absorb disruption and recover from hardship.
On Tuesday, India's electricity grid failed 600 million people, or half its population. And it was the second day of big blackouts. And they were on a scale that shows once again that centralized energy systems – while perhaps efficient and cost-effective – can be vulnerable to a cascade of unforeseen small mistakes.
The United States experienced a massive blackout in 2003 when some 45 million people in the Northeast and Midwest were in the dark for hours. The trigger was a few overgrown trees hitting power lines on a hot summer day.
India is still probing the cause of its blackouts – perhaps not enough water in hydroelectric dams or state governments taking more than their share of power. Whatever the reason, such a disruption in a nation's basic supplies would occur less often if such systems were decentralized into networks of local, smaller suppliers – similar to how the Internet is structured.
Resiliency in systems is much like in people. The ability to bounce back depends on having deep connections to others, such as family, friends, or those who hold similar moral views. Collaboration with a diversity of sources creates a better capacity to absorb shocks.
One reason for the 2008 financial crisis in the US was a high dependency on a few large banks that were all involved in the same, complex business of trading in dubious home mortgages. Few people really know how that system worked or how vulnerable it was. Regulators were caught unaware.
---