India blackout flips a switch
A two-day blackout for half of India was caused in large part by a massive theft of electricity. Many countries have yet to break the link between wholesale corruption and the stealing of power. Such widespread dishonesty can slow a country's growth.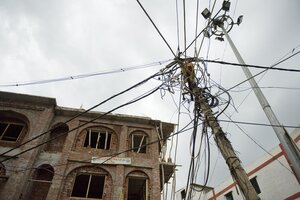 Mary Knox Merrill /The Christian Science Monitor
For two days this week, nearly 700 million people in India – or about a tenth of humanity – were left in the dark. When electricity was fully restored Wednesday, the country's power minister declared one big reason for the blackout: "Everyone overdraws from the grid."
He was being kind.
Theft of electricity is so pervasive in India that 15 to 30 percent of power is lost to illegal hookups, bill fraud, or nonpayment. Grid regulators face unexpected spikes in voltage if they can't control the distribution of electricity.
The World Bank estimates that stealing from the grid reduces India's gross domestic product by 1.5 percent. Worst of all, few investors want to put money into building new power utilities with so many juice pirates. That leaves India with little hope of lifting its poor by expanding access to electricity.
India's blackout was a morality play for all the world to see. Dishonesty on a mass scale, especially when it is condoned with a wink by officials, can hurt any country.
India is only the most recent example of this.
In Greece, official lies about government overspending triggered the euro crisis in 2009, pushing much of Europe into a recession. Argentina's leaders lie about the inflation rate – even to the point of punishing analysts who tell the truth – resulting in a slow economy. In the United States, some critics claim the massive lawlessness of 11 million illegal immigrants only contributes to a lax respect for the rule of law.
What's the solution in such cases? For India and its power theft, the World Bank recommends this first step: "Acknowledge the theft."
---