Whispers of peace in Syria
With the resignation of Kofi Annan as UN peace envoy, Syrians must now find their own solution. Reports show a 'silent majority' quietly turning against Assad – and toward peace.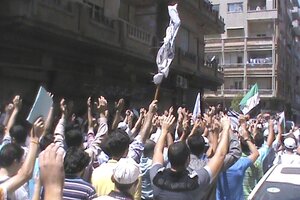 REUTERS/Shaam News Network
With the resignation of Kofi Annan as United Nations peace envoy for Syria, is war now the only path forward in that troubled Middle Eastern country?
No.
International diplomacy may be at a standstill. Other nations such as Saudi Arabia, Iran, and the United States may be supporting either the regime or the rebels with arms, money, or intelligence. But by the credible reports coming out of war-ravaged Syria, more people there are quietly turning against Bashar al-Assad without resorting to violence.
As friends and families see their desperate situations, they are uttering whispers of peaceful dissent to each other, creating a "silent majority" that will do more than weapons or diplomacy by showing where they stand.
"Polarized and paralyzed, the international community's behavior puts the onus on Syrians to work it out among themselves," states the International Crisis Group (ICG), a keen watcher of world conflicts. "Housewives and civil servants have become shrewd and fearless activists. People speak of inspiring friendships. The pride taken in collective achievements plays no small part in providing individuals with this sense of personal accomplishment."
More Syrians are creating a remarkable, courageous network of assistance to keep violence in check, the ICG states. "In the tug of war between society's demons and its ability to resist them, the most encouraging aspect has been Syrians' at times striking self-awareness, grasp of dangers ahead and attempts at course correction."
---