US-Vietnam Agent Orange clean-up sets a model
On Thursday, the US and Vietnam start cleaning up dioxin from Agent Orange. This reconciliation, 37 years after the war, may set a precedent in the ethics of dealing with the aftereffects of war.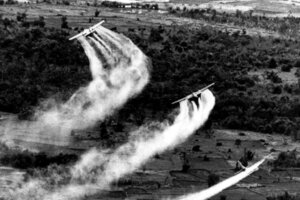 AP Photo/file
For the first time since the end of the Vietnam War, the United States will start to clean up the herbicide Agent Orange used to defoliate forests during that guerrilla conflict.
The cleanup, which begins Thursday at the former US military base of Da Nang, is a step forward in the ethics of modern warfare. It sets a precedent for how former foes can reconcile by taking responsibility for a war's aftereffects on health and the environment.
It also points to the need for the US to make sure it doesn't leave any ecodisasters in Iraq and Afghanistan – such as open burn pits – when leaving the military bases in those war zones.
In Vietnam, the US plans to spend $49 million to clean up several "hot spots" where the chemical dioxin in Agent Orange remains a health hazard by seeping into soils and watersheds. Between 1962 and 1971, the American military dumped about 20 million gallons of herbicides on jungles and mangroves to expose communist fighters. The area exposed is estimated to be the size of Massachusetts. In the initial cleanup, millions of tons of soil will be removed to get rid of the toxin. Private donors are being sought to help pay for what may eventually be a $450 million price tag for helping Vietnam end the problem.
---