After Sikh temple shooting, a healing act
When hundreds of Americans showed up for a memorial service after the Sikh temple shooting, it affirmed the need for freedom of religion.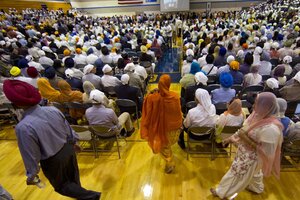 Jeffrey Phelps/AP Photo
Hundreds of Americans of all walks of life attended a memorial service Friday for the six Sikhs killed in Oak Creek, Wis. The public gathering was a touching reminder of not only common grief for a violent attack on one faith, but also America's commitment to the freedom of religion.
"An attack on one religion is an attack on all religions," said Rabbi David Saperstein, who heads up the Religious Action Center of Reform Judaism.
Embracing that freedom remains a constant task in the United States and elsewhere. Last month, for example, a mosque in Joplin, Mo., was burned down in a "suspicious" fire. And a legal challenge continues against a new mosque in Murfreesboro, Tenn. American Muslims, far more than Sikhs, have had to be on guard against attacks since 9/11.
Oak Creek's compassionate response surprised the local Sikh community. Yet it was needed to affirm a common bond between people of faith that is necessary for the concept of tolerance to be real.
It is likely that this tragedy will awaken a renewed spirit of hospitality among religious groups in the Milwaukee area. That can provide a shield of mutual respect, even love, that is a protection against hate and violence. The town's mayor, for example, plans to help Sikhs become more involved in civic affairs and will encourage town officials to visit the temple.
---