How Paul Ryan pick by Romney can alter campaign
Paul Ryan was picked by Romney in part for his bold reform plan for Medicare. The plan's key element is more choice in health care – a useful debating point for the presidential campaign.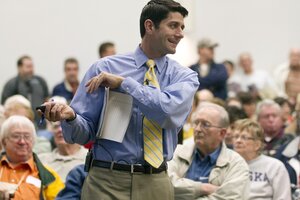 Jeffrey Phelps/AP
For Americans who vote Nov. 6, the selection of Rep. Paul Ryan as Mitt Romney's GOP running mate will probably do little to sway them on the top campaign issue: jobs. Mr. Ryan's expertise is the federal budget, not the economy. And vice-presidential nominees rarely influence an election.
But the Ryan pick could reframe the debate between Mr. Romney and President Obama in a profoundly personal way for voters. The Wisconsin congressman is the leading proponent of more choice for those who rely – or will rely – on government for health care.
Enabling individuals to take charge of their health-care choices lies at the heart of Ryan's plan to reform Medicare. In its latest version, it would give money to seniors to choose between a range of insurance options with government setting the terms for coverage, much like Medicare coverage of drug prescriptions.
For future retirees – or those under 55 – the Ryan scheme would pay them to buy a government-approved plan whose costs are determined through a competitive bidding system. Those seniors who want more coverage under a more expensive plan would pay more and those who want a lesser plan could pocket the savings. The poorest or sickest seniors would have a special program.
---