Misdeal on Internet poker gambling
A federal court ruling that poker is mainly a game of skill and thus not gambling could steer Congress down the wrong path of approving Internet gaming.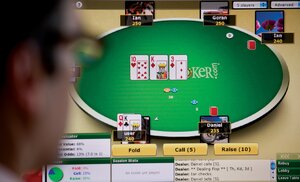 Ann Hermes/Christian Science Monitor
Many lawmakers in Washington and a few states are eager to approve Internet gambling. But to make it politically palatable, they are first pushing only for online poker. Why that card game and not, say, blackjack? Because, they claim, poker is mainly a game of skill.
Their argument received a boost Tuesday in a ruling by Brooklyn federal Judge Jack Weinstein. In overturning a conviction of a man who ran a poker den in a Staten Island warehouse, he found that poker is not a game of chance under the 1970 Illegal Gambling Businesses Act.
The decision needs to be appealed to higher courts as it is could easily be overturned. It argues against poker as a game of chance but then finds that states can still outlaw it as a form of gambling, as many do. It approves of sports betting – which often relies on skilled knowledge of players or teams – even though that is outlawed under federal law.
The ruling is also weak in presuming that a game must always be predominantly chance in nature to be called gambling. Even the most successful poker players often lose – and not for lack of skill. Placing a bet will always be just that – a bet.
---