Neil Armstrong: A giant leap for modesty
The humility of Neil Armstrong after his moonwalk is a model for a balanced approach to giving credit for great achievements.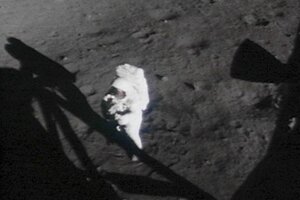 REUTERS/NASA
In this age of celebrity obsession, it is rare for heroic figures to be honored for their humility. Yet the family of Neil Armstrong asked after his death last week that the former astronaut be remembered for his modesty as much as for his accomplishment in landing the Eagle spacecraft on the moon and being the first person to walk on another celestial body.
His famous reluctance to revel in the limelight has set an important marker in a wider debate about the source of all great achievement, or when a person deserves credit for a great deed, discovery, invention, or creative work.
Apple, for example, won a $1 billion suit last week against Samsung for the stealing of patented ideas used in the iPhone. President Obama recently told entrepreneurs that they "didn't build" their businesses without the help of government. And almost monthly in the publishing industry, another case of an author plagiarizing a copyrighted work is exposed.
With these kinds of concerns about the origins of useful ideas or acts, Mr. Armstrong's self-effacing modesty remains instructive.
He said the moon landing in July 1969 was not so much his doing as simply an "achievement that a third of a million people had been working for a decade to accomplish." All the scientists, engineers, and others connected to space exploration are the unsung heroes of historic feats in space. His role was significant but perhaps less important than, say, the designing of the Saturn rocket.
Armstrong's modesty echoes that of Sir Issac Newton, who discovered calculus and the laws of gravitation and later wrote to his rival, Robert Hooke: "If I have seen further it is by standing on the shoulders of Giants."
---