For those in path of hurricane Isaac, a lesson from Irene
A year ago, Vermont was hit hard by floods from hurricane Irene. For those facing hurricane Isaac, the strong community spirit of Vermonters can serve as a lesson in how to respond and to recover.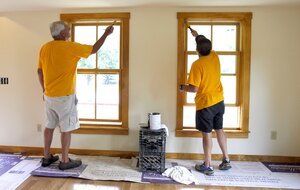 Toby Talbot/AP Photo
When big storms like hurricane Isaac hit, people prepare for their material needs – shelter, food, gasoline, etc. But as many a storm-hit community has later learned, the best preparation is a well-stocked store of community spirit – or a deep reservoir of "love thy neighbor" attitudes.
Hurricane Isaac comes on the seventh anniversary of Katrina, a hurricane that revealed just how much the people of New Orleans were in need of empathy toward each other. The recovery there has been long and hard. About a third of city residents never returned.
But Isaac also arrived on the first anniversary of hurricane Irene, which struck the East Coast. The rains of that storm hit landlocked Vermont the hardest, causing the worst natural disaster there in 85 years.
Floodwaters led to rivers washing away 34 bridges and 531 miles of roads in the Green Mountain State. Most of Vermont's 251 cities and towns were affected, with 13 of them cut off for days or weeks. Six people died.
On Irene's first anniversary, Vermonters are not only commemorating the disaster but honoring the way they helped one another. "Only in Vermont, where we care about neighbors and we take care of strangers, would you see the kind of recovery, the speed of our recovery, from one end of the state to the other," Gov. Peter Shumlin told the media.
"Irene is an example, nationally, about how people pulled together with a selfless and united spirit to deal with a disaster," he stated.
Vermont quilters, for example, banded together to distribute hundreds of quilts to the homeless in what was called "a fiber hug." Volunteer firefighters trekked over hills to reach isolated communities. School sports teams rebuilt their playing fields. People paid $25 apiece for special "I Am Vermont Strong" license plates, with the proceeds dedicated to relief aid. And a year on, many communities still have armies of volunteers helping out.
---