Obama and Democratic National Convention must clarify on Iran
Obama plans to play up his foreign policy at the Democratic National Convention in Charlotte. With Romney's tougher stance on Iran and its nuclear program, Obama must help voters have a clear choice.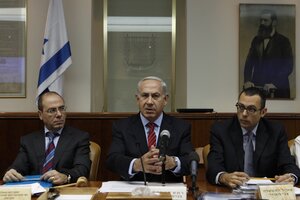 Baz Ratner/AP
If elections help clarify a country's direction, the 2012 presidential race is chance for Americans to decide if they will support a preemptive attack on Iran's nuclear facilities.
Last month's Republican National Convention only touched on the issue. GOP candidate Mitt Romney asserted that the United States is "less secure" because President Obama has failed to slow Iran's nuclear threat. Mr. Romney's previous statements suggest he would attack Iran if it simply showed a capacity to develop an atomic bomb.
Mr. Obama's "red line" for an attack is not clear. At the Democratic National Convention, however, the Obama side plans to play up its foreign policy, starting with a speech Thursday by Sen. John Kerry (D) of Massachusetts. Perhaps the convention can better clarify Obama's position on Iran and how it differs from Romney's.
As head of the Senate Foreign Relations Committee, Mr. Kerry champions the current strategy of dissuading Israel from conducting a unilateral strike on Iran while keeping the option of a US attack if diplomacy and economic sanctions appear to fail.
Vice President Joe Biden, however, seemed to undercut that position of keeping the American military option on the table. On Sunday he claimed that Romney is "ready" to go to war with Iran. Does that mean Obama now rules out war?
A large percentage of Americans see Iran as a serious threat. But there is little consensus on whether an attack is the answer.
---