Islam's answer to the killing of US envoys in Libya
The killing of US diplomats in Libya is seen as zealous revenge for the blasphemy of a film against Islam. Muslims must assert their faith's teachings of peace and mercy as the answer to such hate.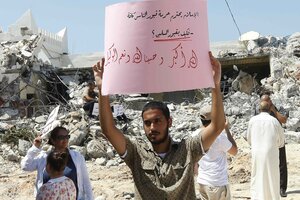 Reuters
The people who killed US Ambassador J. Christopher Stevens and three other American diplomats in Libya on Tuesday may have believed that violent revenge for blasphemy is a useful way to promote Islam.
It isn't. And most Muslims who see Islam as a religion of peace know that.
The storming of the US Consulate in Benghazi appeared to have been triggered by news of a film made in the United States that criticizes the Islamic prophet Muhammad. Protesters also breached the US Embassy in Cairo. The diplomats were simply a convenient target for impatient Muslims eager to defend Islam, perhaps even keen to quickly restore a caliphate in the Middle East.
While Muslims worldwide may be angered by acts of religious bigotry, most know that killing in the name of Islam is hardly favorable to Islam. Most faiths are based on love, not hate, in order that humanity can honor godly commands to love one another in a spirit of individual freedom. If there is to be a global contest of beliefs, it is beliefs, not people, that can be disputed.
Yet Muslim fears of blasphemy remain strong. They first erupted on the world scene in 1989 with Iran's death sentence against author Salman Rushdie. They were behind 9/11 and the many senseless attacks that often follow slights on Islam.
---