A rare apology in the Middle East. Cherish it.
Libyan leader Megarif apologizes to the world and the US for past and current actions. With so much invective and violence in the Middle East, the region needs the healing power of such humility and contrition.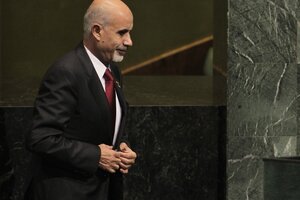 Reuters
With Iran's president speaking of "uncivilized Zionists" and the Israeli prime minister calling Iran "the most dangerous country in the world," it may seem odd for one Middle East leader to stand before the United Nations this week and apologize for his country's past violence.
Yet that is what Mohammed el-Megarif, Libya's interim president, did on Thursday.
He actually gave two apologies on behalf of all Libyans for the actions of Muammar Qaddafi. One was for the late leader's disrespect toward the UN Charter on rights. The other was for "all the harm, all the crimes committed by that despot against so many innocents ... for the extortion and terrorism he meted on so many states."
Just days earlier, Mr. Megarif also apologized personally to US Secretary of State Hillary Rodham Clinton for the Sept. 12 attack in Benghazi that killed four American diplomats. (Details of that assault remain unclear.)
And perhaps in a sign of a trend in the Middle East, Yemen's president, Abed Rabbo Mansour Hadi, also apologized – for an attack by a crowd on the US embassy over the anti-Muslim video posted on YouTube.
---