Why Romney, Obama must drop the fear-mongering
In their political ads and presidential debates, Mitt Romney and President Obama worsen economic uncertainty by using fear tactics and pandering to special interests. The economy needs the certainty of a political consensus.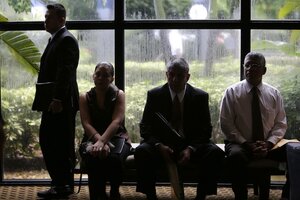 AP Photo
In both the presidential debates and in their political ads, President Obama and Mitt Romney have a common goal: Make voters afraid of the other candidate's economic policies. And sure enough, polls show nearly two-thirds of Americans will base their vote on fear for their own financial security.
The fear factor is rising in the presidential contest, polls find, when this election really should provide the certainty of a consensus on how to revive a sluggish economy mired in doubt.
More than a competition of two visions of the economy, the 2012 race is seen as a contest in which each side paints the other as beholden to groups trying to gain or preserve favors from government. While a competition of special interests may be natural in a democracy, if taken too far voters will also see the future of the economy determined by political blocs – unions, the wealthy, ethnic groups, seniors, Wall Street, etc.
An economy needs to run on basic rules applicable to all and driven by some sort of political center. Only then will individuals make the long-term investments in training, technology, and new business.
Before he became Federal Reserve chairman, Ben Bernanke warned that small-business owners will delay investments if government seems fickle on taxes and regulation. That problem has been especially true since 2001. The United States has seen two recessions, big shifts in tax rates, and elections every two years that created a zigzag in influence between Democrats and Republicans.
---