New Jersey's bad call on sports betting
New Jersey plans to allow sports betting early next year in defiance of federal law and possible corruption of the culture of sports. The state even admits such gambling would harm its own teams.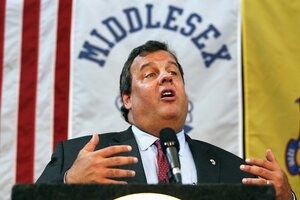 AP Photo
New Jersey announced Monday that it will start to issue licenses for betting on sports early next year – in full defiance of a federal law that bans it. If upheld in court, New Jersey's move would be a legal opening for other states to allow wagering on professional and collegiate games.
But don't bet on it.
For starters, New Jersey admits the potential assault that such gambling might have on the integrity of sports. The law authorizing this step also bans gambling on the state's own college teams or any collegiate sporting events held within the state.
New Jersey's hypocrisy lights up the legal skies like Atlantic City at night. And for some in the tri-state area, memories remain of the bribe-taking antics of the 1951 basketball team at City College in New York.
Then there's the response from the National Collegiate Athletic Association immediately following the state's announcement. The NCAA will pull five championships out of New Jersey next year. Like many sports organizations, the NCAA sees how sports betting, especially in the Internet age, has increased in Asia and Europe, corrupting enough games to scare away fans.
---