Let us now praise the popularity of presidential debates
The audience size for the Romney-Obama presidential debates was a near record, showing a hunger for civic life and for leaders who can uplift society.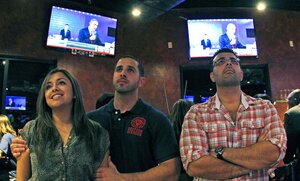 AP Photo
One measure of a common concern for the public interest among Americans is the number of people who watch the presidential debates every four years. Well, congratulations on having community spirit in 2012. The Oct. 3 debate between President Obama and Mitt Romney had a near-record number of viewers.
The candidate match-up drew more than 70 million people when you count all those watching on any electronic device such as tablets and not just on network TV. And given how few voters are undecided in the 2012 contest, the audience size for this event is even more amazing.
It shows not only a hunger for information and live TV drama but a desire to join a significant civic gathering. The only television event with a larger audience this year was the Super Bowl. Even the nightly broadcasts of the London Summer Olympics didn't beat out the debate.
The second debate's viewership was down by only 2.4 percent from the first one. Some websites reported even higher traffic. If the third debate, set for Monday with a focus on foreign affairs, is also high, then that would also be a welcome sign of how engaged voters are in their country's future.
The high ratings could be a reaction to the tsunami of negative political ads. A recent study by the Wesleyan Media Project found less than 8 percent of presidential ads were positive. That's down from 19 percent in 2008 and 30 percent in 2000.
---