With Lance Armstrong stripped of Tour de France titles, cycling can recover
The International Cycling Union stripped Lance Armstrong of his Tour de France titles – the result of a sport trying to clean up its act after years of doping scandals. The cleanup should be commended.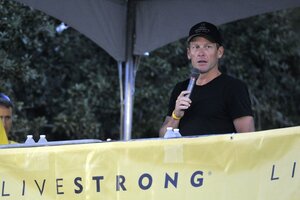 AP
The US doping investigation that led to Lance Armstrong being stripped of his Tour de France titles has exposed the rot in a popular sport. But amid the controversy and disappointments, it should not be overlooked that the sport has turned itself inside out to purge that pungent history.
That uphill climb alone was quite an achievement.
The pursuit of Mr. Armstrong has been even messier than a peloton of cyclists careening around cobblestoned streets in the Tour de France. Personal rivalries and long-simmering resentments almost certainly played a role in bringing forth the evidence against Armstrong.
The 202-page report by the United States Anti-Doping Agency relied on the testimony of more than two dozen witnesses, including 11 former teammates. US anti-doping officials say the systematized doping they uncovered is "more extensive than any previously revealed in professional sports history." The International Cycling Union accepted the USADA's verdict, took away Armstrong's seven Tour titles, and banned him from the sport for life.
The prosecution of doping cases, even when there are solid lab results (which the USADA could not rely on in this case), can be tricky from a scientific perspective. It can also be imperfect in the eyes of legal experts. Most cases are settled by the international Court of Arbitration for Sport and not a traditional court system.
---