A recovery theme in Romney-Obama presidential debate
In the presidential debate on foreign policy, both Mitt Romney and President Obama cited a need to rejuvenate the economy if the US is to be a world leader. But that choice need not be either-or.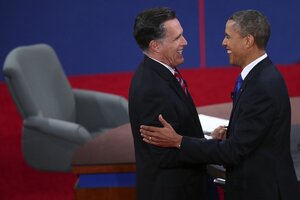 AP Photo
Other nations that rely on America or look up to it didn't get to ask a question at Tuesday's presidential debate on foreign policy. But if they had, it would probably have been this:
"So, just how long will it take for the United States to pull out of its economic pit stop?"
The question is relevant because both Mitt Romney and Barack Obama turned a debate on foreign affairs toward one on the need for America to rebuild its strength. They differ on how to do it. But they each cited a priority in national rejuvenation.
"It's very hard for us to project leadership around the world when we're not doing what we need to do [at home]," said President Obama.
"For us to be able to promote ... principles of peace requires us to be strong. And that begins with a strong economy here at home," said Mr. Romney.
Left unsaid – as the rest of the world probably noticed – was any hint of when this US sabbatical might end and America resume the role of a vibrant world leader. When the jobless rate hits 4 percent? When the national debt is zero?
Or perhaps never – because this economic retreat signals a long escape for the US from the world and its woes?
The two presidential candidates, of course, did not promise to retreat from standing responsibilities to others, such as treaty allies. Obama calls the US "the indispensable nation." Romney calls it "the exceptional nation."
But an inward-looking US is hoping for a break. It wants to recover from wars, recession, overspending, and a deep political divide.
Regular rituals of rest are built into any society, whether it's called the Sabbath, spring break, vacation, a nap, R&R, or, for American presidents, a weekend retreat at Camp David. In the Hebrew Bible, God rested on the seventh day, while, for Christians, Jesus offered rest to all who are weary and burdened.
---